When it comes to remote monitoring in terms of swimming pools and hot tubs, this refers to the ability to be able to check the temperature within it securely and through an internet connection and being quickly informed if any drastic changes occur. This can also be used in a hot tub when you want to check what exactly the temperature of the tub is before entering it with your body. To accomplish this need and fill this gap in the market,
UbiBot
 has developed a smart, all-in-one, IoT based sensor for environmental data that is even compatible with IFTTT.
When it comes to the UbiBot WS1, it is a product that has industrial-grade sensors that can work seamlessly and give you accurate sensing of environmental conditions. The optional external temperature probe, such as the
DS18B20 Probe
, will allow you to monitor liquids, soil, and other harsh environments as well. The UbiBot WS1 features:
A temperature sensor
A humidity sensor
An ambient light sensor
A vibration index sensor
External Temperature sensors through probes.
What Makes the UbiBot WS1 Special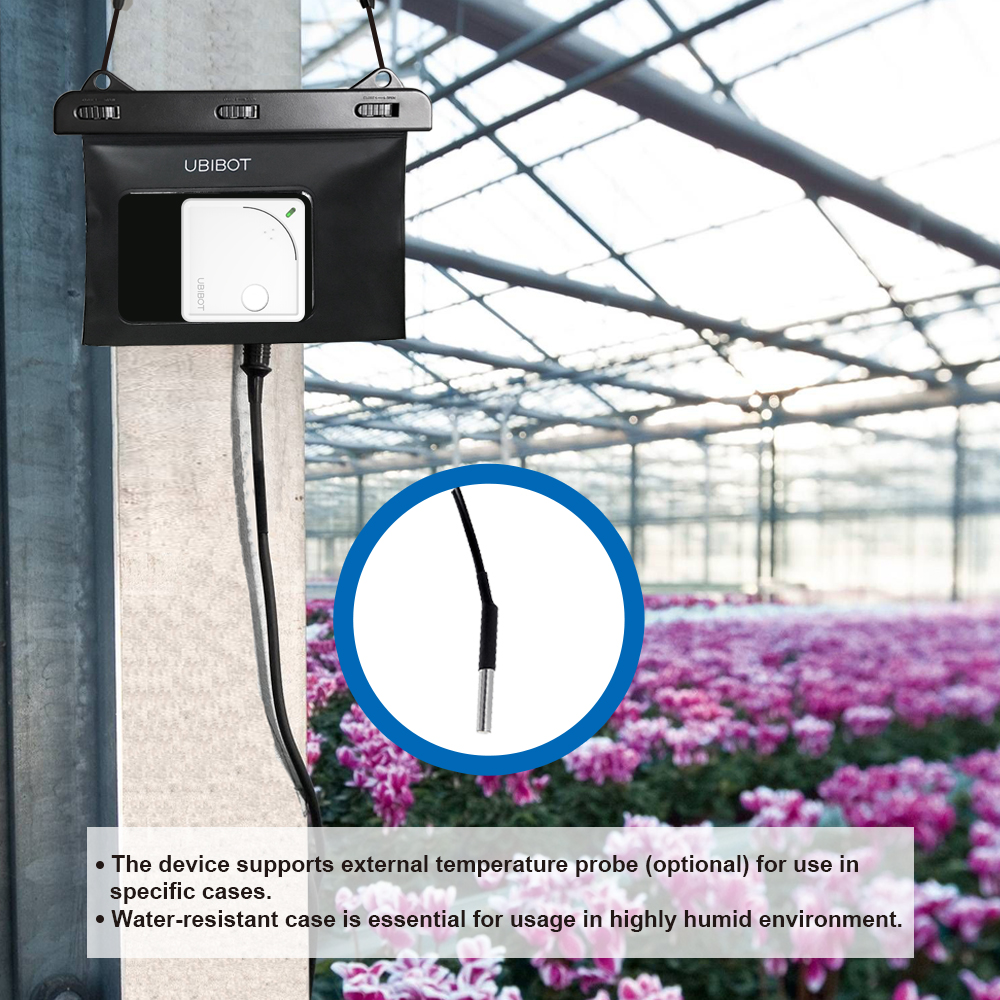 The UbiBot WS1 stands out from other sensors due to the fact that it uses the UbiBot IoT platform, to which it connects through a Wi-Fi connection, to automatically synchronize all of the data to the UbiBot platform and allow you to view it from basically any device you might own in your home, or even in your pocket. The UbiBot IoT platform has an application that is available on the iOS, on Android, and on PC such as any PC running Windows 7, 8.1, or 10, and any Mac running OSX v10.8 or above. The UbiBot IoT platform is a cloud-based solution, however, there may be times where the Wi-Fi network connection fails, and in these cases, you want your data to be ideally stored. AS such, the UbiBot WS1 has large on-board memory that can continue to collect and store data even when the network fails and goes offline. This is what happens: When the network fails, you receive a notification alerting you of the situation. The UbiBot WS1 carries on collecting data on its on-board memory. As soon as the network connection goes back online, all of the data is re-synched and you can view what happened during the downtime of the network. AS such, the UbiBot WS1 offers a Wi-Fi connection, Global Access to your data, historical data trends, multiple sensors linking, notifications, and all of this can work through standard AA batteries. When it comes to the Sensing range, it can sense the temperature in the lines of -4℉ to 140℉(-20℃ to 60℃). When it comes to the level of humidity, it can sense from 10% to 90% RH. The device supports a minimum device sync interval of 1 minute and a minimum sensing interval of 1 minute. You can be alerted about any of the humidity and temperature changes in your swimming pool or hot tub through APP push notifications, emails, SMS texts, and phone call alerts. Alters can be set on numeric based sensor readings and network status, such as when the connection is lost or when the battery gets low.
Connecting the Probe
In order to measure the temperature within liquids, you need to connect the External Temperature Probe DS18B20. The WS1 device supports one DS18B20 Probe for external temperature monitoring. This is due to the fact that it has only one Micro USB port. To power it with the USB cable at the same time, you can connect a USB splitter. When it comes to the External Temperature Probe DS18B20, it is waterproof and designed to operate in extreme conditions, such as temperatures between -55ºC to 125ºC.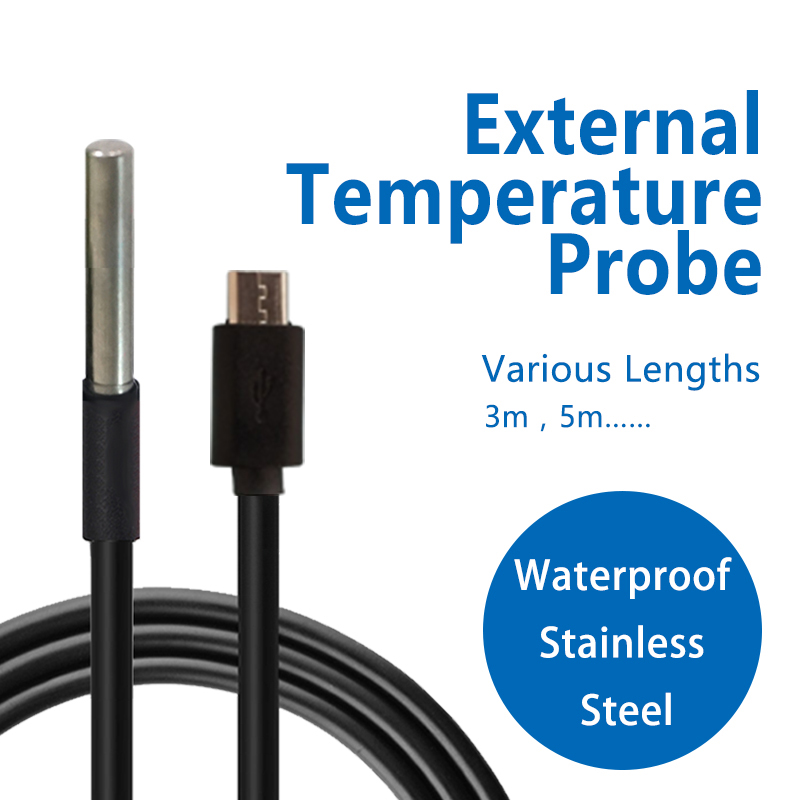 The Micro USB connector is compatible with every monitoring device in the UbiBot lineup of products, such as the WS1 and WS1 Pro. The probe is made from high-quality stainless steel, ensuring that it will not rust under any condition. The different cable lengths are designed to offer a high level of flexibility, and the connector allows you to deploy the probe within seconds. The flat cable is unshielded.
How the UbiBot IoT Platform Works
Through the UbiBot IoT Platform, you can set alerts by emails, which includes 200 free emails per device, per month, or through different methods such as phone voice alerts or through SMS messages. You can also download complete Spreadsheets that go in-depth into a summary of the temperature throughout a specific time-interval, and you can connect it to IFTTT. You can also set specific times when you do not want to receive any notifications, such as at night, and you can add multiple channels through which you can receive alerts at any given time, such as in-app notifications alongside SMS messages. This way, you will be informed about any changes that might occur even if you are not connected to a network from your mobile device and it will give you an added level of peace of mind. The UbiBot platform also allows for shared alerts, which means that you can share your device with another person when you choose to add them, and they can view the data as well as see alerts just as you would, which is convenient if you are traveling and leave your pool to be managed by a relative or neighbor. The UbiBot line of products are excellent for monitoring the temperature and humidity level of just about any environment, as they offer products which can withstand harsh conditions such as water or sand, and they offer probes which can get into any liquid and give you accurate readouts based on your specific needs. This allows you to always be informed about exactly what is happening in the environment you place the sensor or probe in and as a result you will have a higher level of awareness and as a result, the performance of those specific locations and things that you are managing within them.